Grab The Latest E-Book That Would Teach:
Generating Leads For Your Podcast
Ranking Your Podcast in The Top Page
At a massive 70% Discount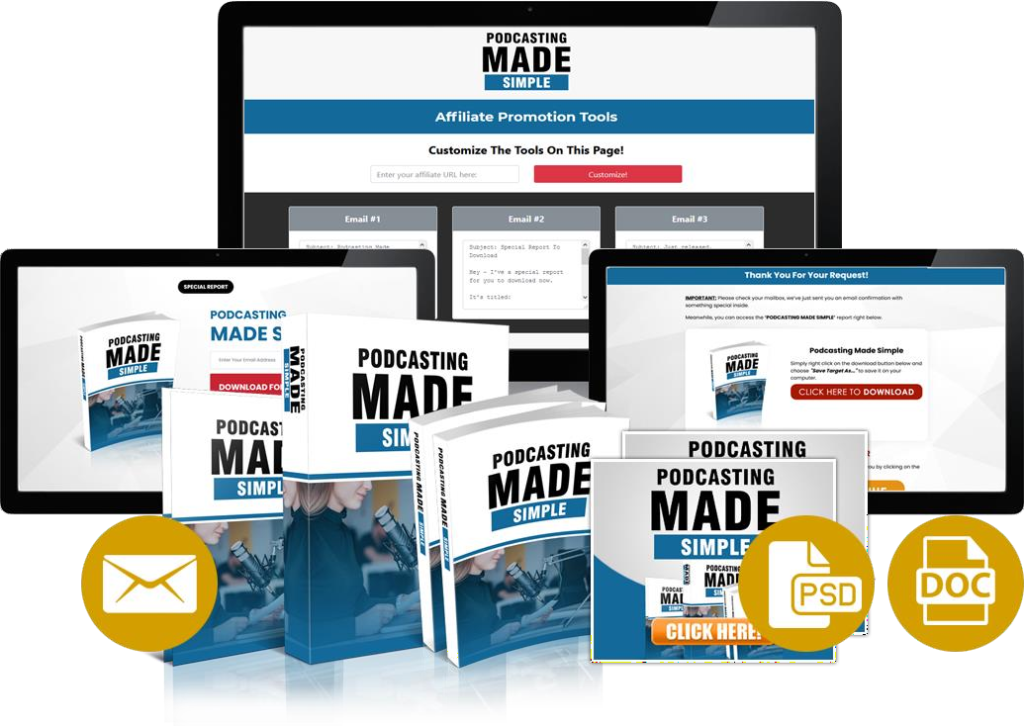 When we launched our latest E-Book On Podcasting as a time-sensitive offer we didn't invite our affiliates to promote them, consequently, this E-Book didn't sell a lot, although we wished we would have sold hundreds ourselves, that wasn't the case.
Due to the lack of exposure, most of this E-Book sold a few dozen copies only to our subscriber's list and we closed the offer after a 48 hours period…
So, to ensure the good running of our business and be able to cover all development costs for this E-Book as well as end up with a profit, we have decided to reopen it to our customers list only but now presented as a discount offer.
Reserved For Our Customers
First, rest assured. This offer is NOT being promoted by our affiliates partners. It's offered to our list only.
That means it's still NOT being exposed to the general public and as such, it won't affect the value of this E-Book. It's yours only to profit from.
Without a doubt, this is an amazing and rare opportunity that we're presenting to you right now. Not only would it save you a lot of money but that gives you the ability to also plan your Podcast Strategy several months ahead.
SEO Optimization & Getting More Listeners
This E-Book can be sold as an expensive 6-month coaching program. All the content focuses on 2 very hot topics that are always getting lots of attention, these are:
SEO Optimization
Getting More Listeners
You'll be getting access to a minimum of 2800 written words of content.(See Below To Get Full Details)
For a limited time only, you'll be able to download everything for just a small fraction of what this E-Book is really worth.
So without further delay…
Here's A Full Breakdown of
The E-Book below:
Module #1
2800+Words Ready-To-Publish Report
Table Of Content
Introduction          01
Getting started                                                                                02
Have goals                                                                                       05
Create your podcast                                                                     08
Optimize it for SEO                                                                       11
Get more listeners                                                                         14
INTRODUCTION
There are many great and effective ways to get your business to the world and reach the right audience. Many businesses use social media, YouTube, or blogs and always meet their goals. However, podcasting is one of the most effective marketing methods that only a few people take advantage of.
Module #2:
PRO E-Cover Graphics
(PNG & PSD Files Included)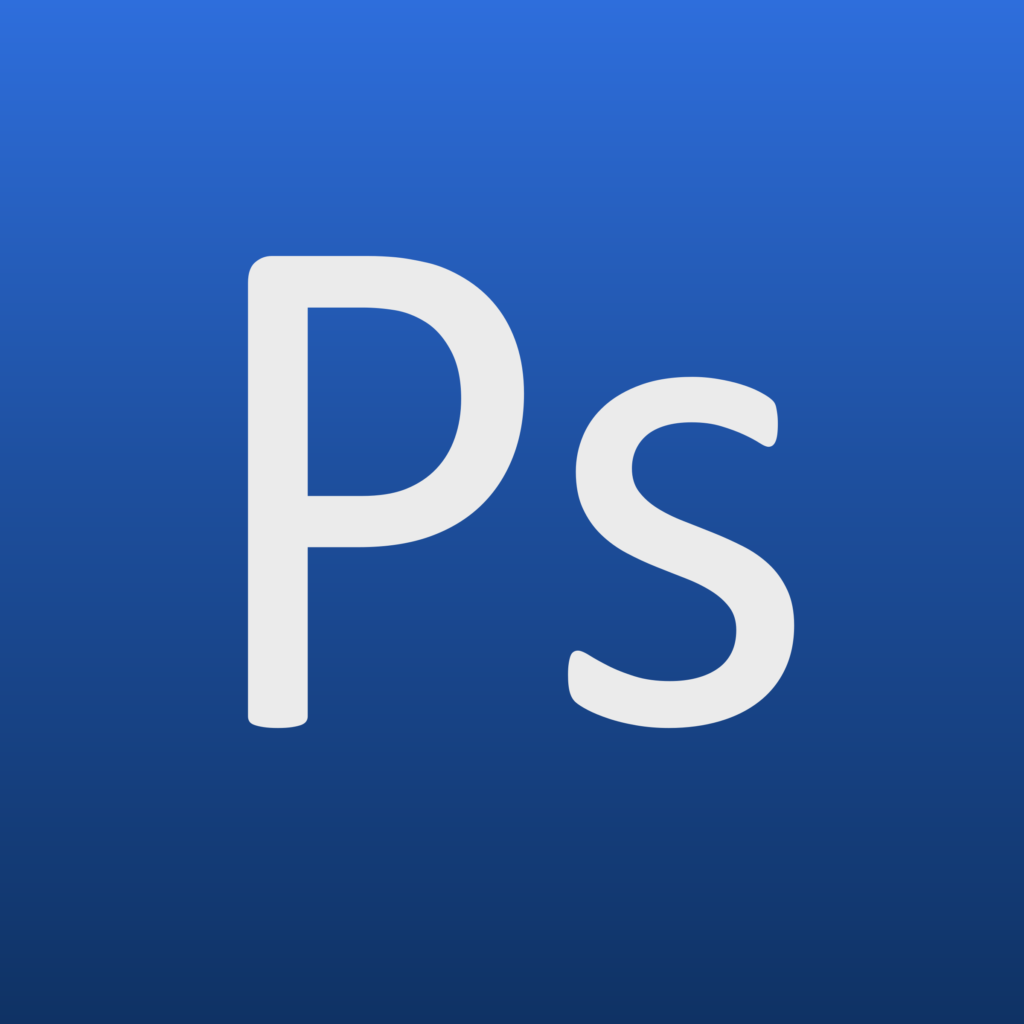 Module #3:
Lead Capture & Delivery Pages
(Mobile Responsive HTML Files Included)

Lead Capture Page To Grow Your Subscribers List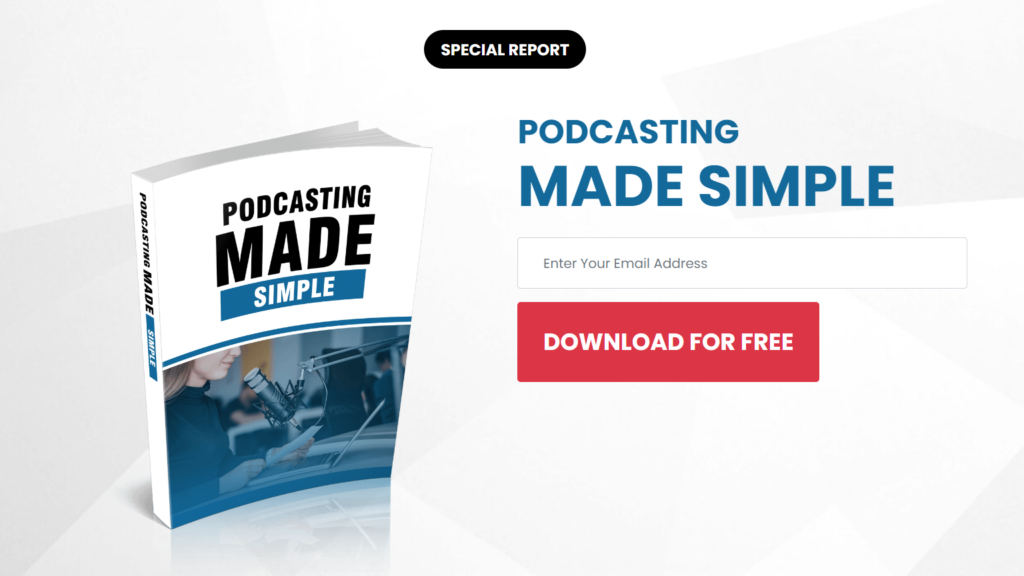 Delivery Page (or Thank You Page)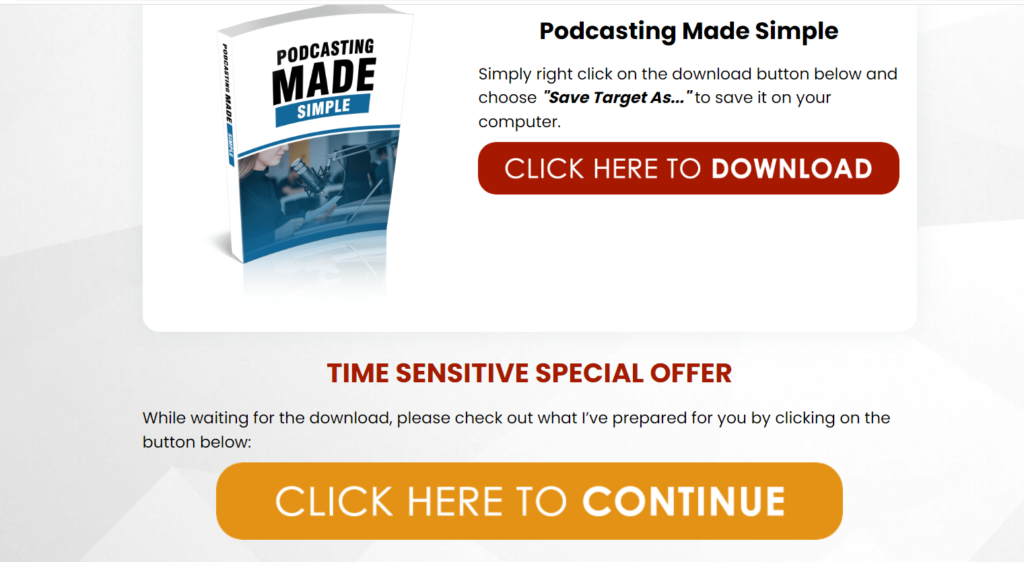 Module #4:
Affiliate Center Pages
(Mobile Responsive HTML Files Included)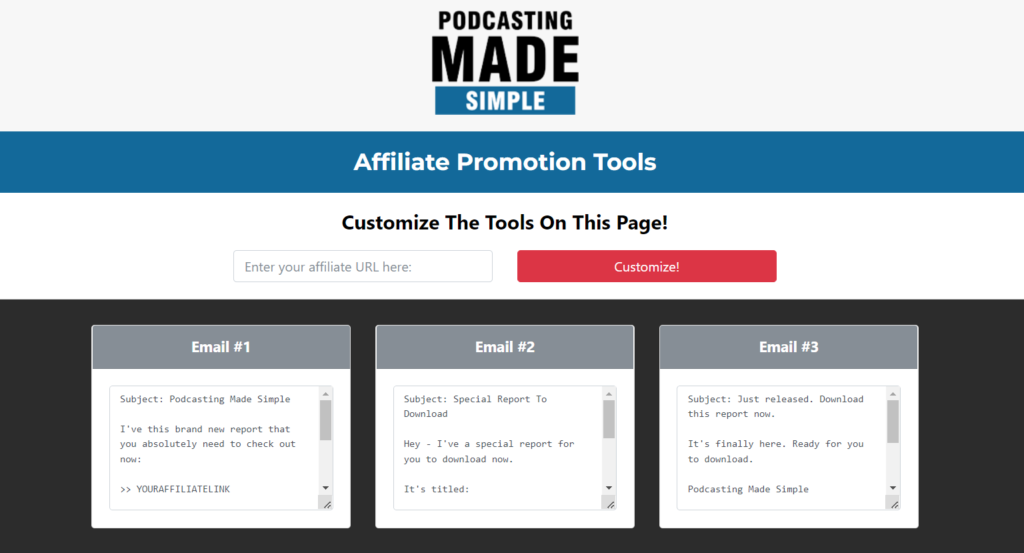 Module #5:
3x Affiliate Promotional Emails
(Mobile Responsive HTML Files Included)

Module #6:
9x Promotional Banner Graphics
(PNG & PSG Files Included)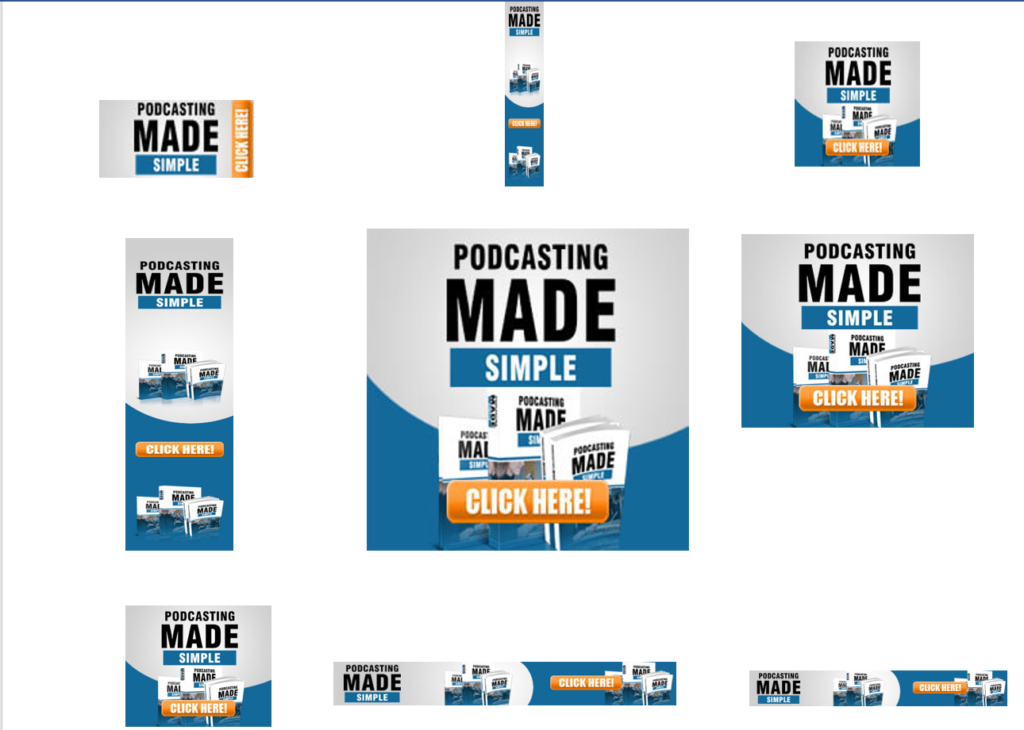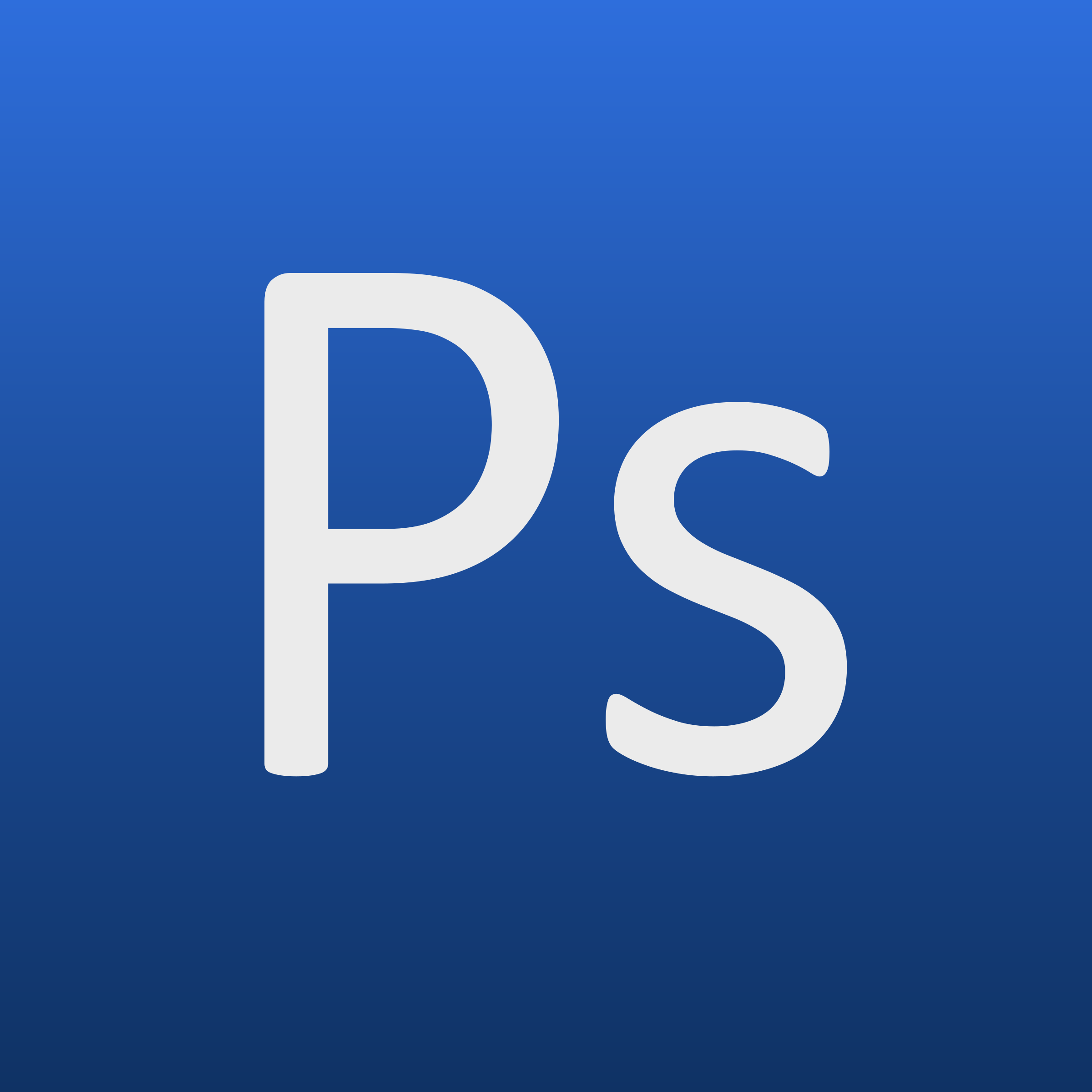 Total Retail Price: $448.50
You're receiving full 'Private Label Rights' to everything above.
We never did something like that before.
So this is a real bargain and if you want to get over $350+ discount on it, you absolutely need to take advantage of this offer now.
So go get it now…
GET A MASSIVE $350+ OFF TODAY!
This Offer Expires In:
Click The Button Below To Secure
Podcasting Made Simple
With Full Private Label Rights!