So why do you really buy a brand? Is it because somebody asked you to buy it or is it because there is something in that brand that connects with you? Companies spend millions on branding or even hire a branding agency in Dubai, just so that when you see a product on the shelf, it should resonate with you and you will have no hesitations in buying it.
In the opinion of Firstcomm Marketing consultants, a brand is not a name, a symbol or a design that belongs to a company. It is more in the lines with why you do certain things and how that brand influences you to do it.
There are certain principal factors you need to consider before you embark on a beat branding agency in Dubai, for instance:
∙ How to influence your target audience?
∙ What are the platforms you need to consider in order to attract customers?
∙ How to position your brand?
∙ What will be your ideal message?
∙ What Marketing collateral's you need to use?
∙ What is the most effective promotional strategy for your brand?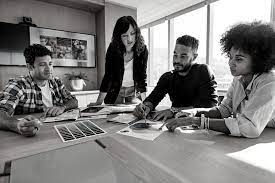 However, first, you need to understand two things:
What is a Brand and
What is Branding
A brand maybe defined as something that carries a detailed set of Characters, Benefits, Advantages,and a consistent set of Features that a buyer experiences every time they come in contact with the product. However, others argue that a brand is a set of beliefs a consumer has about the products and the company it represents. Say you go and buy Nike shoes and if you're not sensitive toward the price then you're buying this product only because Nike resonates with you. You also feel that the brand is reliable, you usually get influenced by their advertising campaigns because they are very trendy, and if you buy a Nike product…. you're not only just buying good shoes, but you're also in fact buying an attitude that you connect with.
So that's what a brand is in our opinion… It's the many features that represent a product or a lifestyle and these features are your influencing blocks that convenience you to buy a brand.
Now let's talk about what is Branding…
Branding is a customized strategy… an action plan devised by you that differentiates your product from the others. Branding gives you the liberty to tailor make a strategy that will be most effective and suit your company's marketing goals.
If we have to break it up … a branding process includes 4 fundamental steps and if implemented professionally, it could work to your advantage. The 4 fundamental steps include:
Identify the need,
Creating a Branding Process,
Connecting with the Target Audience and finally
Introduce the brand to the target audience.
But always remember – A successful branding process leads to creating a successful brand…
"the two complement each other". A brand is defined by the company's effort it puts in the entire branding process. Your brand will always represent your company including its image, and this will be an influencing factor in brand positioning. However, if your branding process is not well structured and backed by meticulous planning, then your efforts could go in vain.
That's the difference between a Brand and Branding.
Whenever Firstcomm Marketing takes on the responsibilities of branding a client's product, they implement different variables that are essential in the journey of a brand launch. What you need to remember is that Branding is always considered as an act of building a strong brand in the marketplace. In other words, the journey curtails placing your company or merchandise or product where your target market or audience are and then attracts them towards your brand.
Here is a simple process flow that Firstcomm Marketing uses in a branding process:
∙ Research & Identifying the need,
∙ Deciding on a brand name and what it represents,
∙ Addressing the brand personality,
∙ Analysis your Competitor Brands,
∙ How and where to position your brand,
∙ Identify your target audience,
∙ Decide on your messaging strategy,
∙ Create your collateral (identity, logo, stationary etc.),
∙ Building a powerful website for your brand,
∙ Deciding on your marketing tools (below-the-line & above-the-line)
∙ Preparing your Content strategies and agree on your Digital and Social Media platforms including running campaigns with help of social media agencies.
∙ Formulating your brand implementation strategy
∙ Tracking your success
And finally
∙ Reinventing your brand
Interesting …. sure it is, and Firstcomm Marketing has mastered the art of traditional branding including Digital Media Agency and Social Media strategy implementation.
Remember, branding should always be the reason why you do certain things and many branding agency in Dubai usually invest a lot of their efforts in research and development to understand how their brand can target that particular segment and convince them to be loyal towards the brand. Now that's where the entire branding process comes into play. The process we just discussed is extremely critical. These parameters are something every company should address and if implemented meticulously with proper timelines, then Firstcomm Marketing can assure you, your company will be ahead of the competition.
Get in touch with us if you need further information on the subject and please visit our site www.firstcomm-me.com or write to us at info@firstcomm-me.com